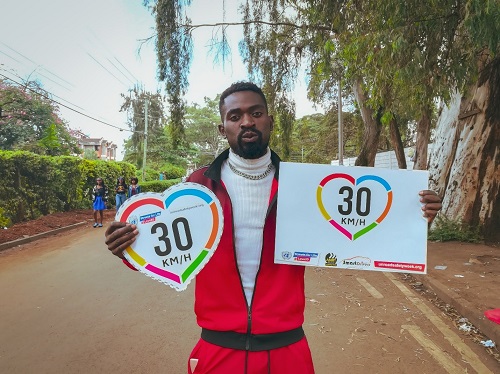 The world observed the 6th UN Global Road Safety Week from 17th to 23rd May 2019 with the slogans "#Streetsforlife" and "#love30" . The main aim was:
To garner policy commitments at national and local levels to deliver speed limits of 30km/hr in urban areas;

To generate local support for sch low speed measures in order to create safe, healthy, green and livable cities;

Highlight links between 30km/hr speed limits and attainment of a number of Sustainable Development Goals including those on Health, education, infrastructure, sustainable cities, climate action and partnerships
The World Health Organization (WHO) has estimated that 1.35 million are killed in road crashes annually while millions are injured. From the Global Status Report, they published in December 2018 Road crashes were found to be the number one killer of people aged between 5 and 29 years. This is alarming considering that in Kenya 70% of the population is said to be below the age of 24. School children are particularly vulnerable as they walk to and from school and most of them are unsupervised. They are exposed to speeding vehicles and infrastructure that does not encourage walking with no facilities like sidewalks. These and other risk factors lead to hundreds being killed annually and others are injured and acquiring permanent disability annually.
The youth are not spared. They are exposed to the risks of road crashes, first because they form a huge proportion of Kenya's population and also because our roads do not largely support walking, cycling and skating, activities that many youths engage in. Other risk factors include speeding, non-use of helmets, distracted driving, alcohol, not using seat belts and drug use.
During the 6th UN Global Road Safety Week, ASIRT Kenya partnered with SMART drivers Organization and engaged pedestrians, cyclists, children to call for reduction of speed limits on Outering road in Nairobi to 30km/hr in areas where traffic and people met. This followed a survey that showed that the community was concerned with the lack of sufficient walkways and crossing points thus exposing them to the risk of being involved in road crashes as they engage in their daily activities. These included going to school, hospitals, markets, work and other social activities.
Our efforts were successful as we the Deputy Director of Road Safety at the National Transport and Safety Authority attended and made a commitment through signing of a pledge to support the reduction of speed limits to 30km/hr in areas where traffic and people meet as they walk, play and work.
Beyond the UN Global Road Safety Week, we must all continue to call for action with the recognition that road crashes are a threat to the achieving of SDGs. This is due to the fact that transport and safety are enablers to most of the other goals. Without sustainable transport therefore, it will be difficult to achieve the other goals. ASIRT-Kenya will continue to engage our policy makers to ensure that the pledges made are actualized.