UN GLOBAL ROAD SAFETY WEEK OFFERED AN OPPORTUNITY TO DEAL WITH THE NUMBER ONE KILLER OF OUR CHILDREN AND YOUTH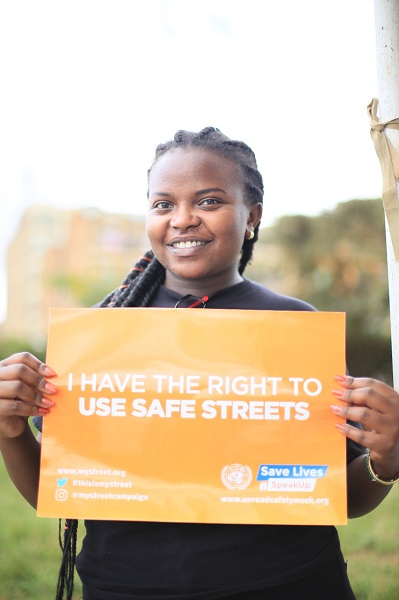 The world observed the 5th UN Global Road Safety Week from 6th to 12th May 2019. This year's theme was "Leadership for Road Safety" with a call to all to #SpeakUp for road safety. Leaders are defined as influencers and can be found at global, national, community and even at individual levels. The Global Road Safety Week gives an opportunity for countries to focus on road crashes that are rising especially in the developing countries.
Strong leadership is key in ensuring that global and national targets are met. These include targets in the Sustainable Development Goals 3.6 which envisages that by 2020 the number of global deaths and injuries from road traffic accidents will be halved. The other target is 11.2 which envisions that by 2030 there will be access to safe, affordable, accessible and sustainable transport systems for all, improving road safety, notably by expanding public transport, with special attention to the needs of those in vulnerable situations, women, children, persons with disabilities and older persons. These targets are a response to the growing numbers of deaths and injuries from road crashes.
The World Health Organization (WHO) has estimated that 1.35 million are killed in road crashes annually while millions are injured. From the Global Status Report, they published in December 2018 road crashes were found to be the number one killer of people aged between 5 and 29 years. This is alarming considering that in Kenya 70% of the population is said to be below the age of 24. School children are particularlyvulnerable as they walk to and from school and most of them are unsupervised. They are exposed to speeding vehicles and infrastructure that does not encourage walking with no facilities like sidewalks. These and other risk factors lead to hundreds being killed annually and others are injured and acquiring permanentdisability annually.
The youth are not spared. They are exposed to the risks of road crashes, first because they form a huge proportion of Kenya's population and also because our roads do not largely support walking, cycling and skating, activities that many youth engage in. Other risk factors include speeding, non-use of helmets, distracted driving, alcohol, not using seat belts and drug use.
During the 5th UN Global Road Safety Week, ASIRT Kenya engaged the youth and children to make demand for road safety. Four areas of focus were highlighted:
Demand for safe journeys

Demand for improvements to existing infrastructure

Demand for management of speed around roads

Demand for road safety leadership.
ASIRT Kenya involved the communities through an online petition that was signed to support the above demands. ASIRT-Kenya also engaged cyclists, skaters and youth clubs to go around the city and have members of the public sign printed petitions to call on action around the four demands. This was coupled with people taking photos with demand bubbles bearing different messages. The entire exercise resulted in more than 500 petitions being signed and several hundreds of people sensitized on the need to take road safety leadership and demand for action.
On 10th of May 2019 ASIRT-Kenya held an event to climax the activities of the week. This was held at Murema Primary School. The school has a population of over 2000 pupils and the majority walk to and from school, mostly unaccompanied. The infrastructure around the school does not support walking as there are no walkways or designated crossing areas. Our demands for safer journeys, improved infrastructure, speed management and leadership for road safety were relevant to the school situation.
Our efforts were successful as we handed over the petitions to Deputy Director of the National Transport and Safety Authority and got commitment and a signed pledge towards action on our specific demands. The signing of the pledge was witnessed by an official from the Ministry of Health together with road safety NGOs who are also members of the Global Alliance of NGOs for Road Safety.
Beyond the UN Global Road Safety Week, we must all continue to call for action with the recognition that road crashes are a threat to the achieving of SDGs. This is due to the fact that transport and safety are enablers to most of the other goals. Without sustainable transport therefore, it will be difficult to achieve the other goals. ASIRT-Kenya will continue to engage our policy makers to ensure that the pledges made are actualized.