ASIRT-Kenya gives family members and friends of road crash victims and survivors a chance to write messages on quilt pieces. These pieces are then joined to make quilt banners. These have been powerful tools that show the human impact of road crashes with each piece representing a life lost. They represent faces behind the numbers.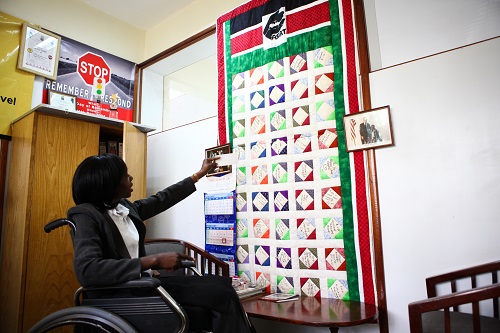 A display of the quilt at ASIRT Kenya office
ROAD SAFETY WEEKS
ASIRT Kenya spearheads and participates in observing Road Safety Weeks. This helps to focus the attention of all road users to matters related to road safety. The purpose is also to highlight the fact that road safety is a shared responsibility. ASIRT-Kenya collaborates with other stakeholders including the government. Key objectives include :
Creating awareness and sensitization on road safety to the community and the public in general.

Increasingly working with other partners to take measures that will help reduce the number of road traffic crashes in Kenya

The publicity campaign intended to provide information, create awareness and promote attitude change and ultimately behavior change by road users.
Activities include and not limited to:
Media interviews, features

Awareness and sensitization forums in selected malls

Signing of a quilt pieces and petitions

Processions

Art work / poetry competitions in schools

Speeches by victims and guests.

International Awareness Events-
ASIRT Kenya has spearheaded World day of Remembrance for Road crash victims in Kenya since year 2007. This is a day that is set aside by the United Nations and is commemorated every 3rd Sunday of November to acknowledge the impact of road crashes and to show solidarity with those affected by road crashes.
---
MEDIA ENGAGEMENT
Media is a crucial partner in ASIRT-Kenya's work. Without the involvement of the media, it would be difficult to sustain campaigns thus making it difficult to achieve our objectives.

Media raises the level of information and education on road safety and generates information seeking by individuals . It enhances community awareness on the impact and scope of road crashes. It stimulates interpersonal influences via conversations with others through talk shows, interviews, features, documentaries and reinforcing existing positive beliefs and behaviors. This ultimately influence societal attitudes which lead to a reduction in unacceptable behavior on our roads.

ASIRT –Kenya works with the media to encourage objective reporting and dissemination of information/education and awareness creation. We have engaged all mainstream media in talk shows and interviews. We have also participated in creation of media clips that have been viewed around the world. (

Guardian/ FIA Foundation

)
---
RESEARCH:
ASIRT-Kenya were administrators for Georgetown University who designed an intervention to empower matatu passengers to voice their concerns to the drivers about bad driving. This research project commenced in March 2008 with thousands of vehicles enrolled. Preliminary data in the 1st phase shows a significant reduction (25-50%) in insurance claims. Following promising results of Heckle and Chide (phase 1), a randomized control trial of a road safety intervention in the matatu (mini-bus) sector in Kenya. The project has since expanded with Georgetown University working with other partners. For more information visit http://gui2de.georgetown.edu/projects/zusha/and http://www.georgetown.edu/news/usaid-grant-road-safety-zusha-project.html.

VICTIM SUPPORT
Counseling: ASIRT Kenya works with road crash survivors and their families to help them process the sudden loss through counseling and friendship. People who become suddenly disabled by road crashes often find it difficult to adjust and be reintegrated to society after hospitalization.
ASIRT Kenya also empowers crash survivors and their families to be advocates for road safety. Several opportunities through testimonials in public events like World day of remembrance for road crash victims and also working through media.
---
GLOBAL ROAD SAFETY
In 2010, a consortium of partners received funding from The Bloomberg Family Foundation to expand road safety to 10 low- or middle-income countries. Dubbed the Road Safety in 10 Countries Project (or RS10 ), this initiative included a road traffic injury prevention component in all 10 countries: Brazil, Cambodia, China, Egypt, India, Kenya, Mexico, Russian Federation, Turkey and Vietnam. Additionally. The initiative also focused on trauma care in Kenya and India, and data system development in Kenya and Egypt. RS10 was implemented over five years.
Interventions focused on two major risk factors agreed upon by local stakeholders.
The project was undertaken through a consortium approach. The consortium partners are:
WHO

Global Road Safety Partnership,

Johns Hopkins University,

Association for Safe International Road Travel

the World Resource Institute for Sustainable Transport (EMBARQ)

World Bank

The Kenya project had three components:
Road safety,

Trauma care, and

Data system strengthening
ASIRT-Kenya was a member of the national coordinating committee charged bith the role role:
Mobilizing the civil society

Mass media attention

Victim support

Assist in implementation
---
OTHER GLOBAL ACTIVITIES
ASIRT Kenya has participated in various international events. These include participatation at the first UN Youth Assembly in Geneva, Switzerland in 2007, "Make roads safe" Africa meeting in Cape Town, the "Make Roads Safe" Sub Saharan African Automobile conference in Kampala in 2008 , Global meetings for NGOs Advocating for Road Safety in Brussels in 2009, Washington DC, Turkey and Morocco.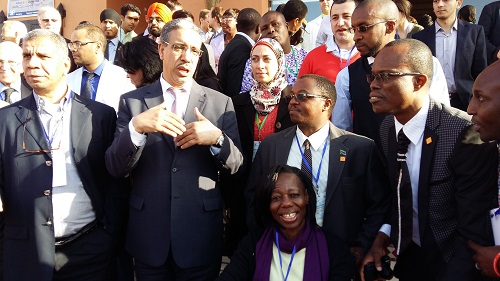 Minister for transportation and members from NGOs from across the globe.